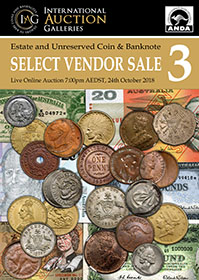 AUCTION LINKS - Select Vendor Sale 3
NEXT AUCTION INFORMATION
AUCTION:
Select Vendor Sale 3
LOCATION:
OnlineOnly
ONLINE BIDDING OPENS:
17th October 2018
LIVE ONLINE AUCTION:
24th October 2018
UPCOMING IAG AUCTIONS AND SALES:
24th October 2018
Online Sale SVS 3
Features 560 Lots Incl. Estate of I. McConnelly BIDDING NOW OPEN!
12th December 2018
ONLINE SALE 12
Accepting LOTS NOW! 1,000+ Lot Online Only Auction Extravaganza!
January 2019
FLASH SALE 9???
Accepting ALL LOTS! Unreserved & Estates from $1 to $10,000+
March 2019
SIGNATURE LIVE FLOOR SALE S 89
FINEST/RARE Wanted!
May 2019
ONLINE SALE 13
Accepting ALL LOTS NOW! Quality & Rare, Estates & Unreserved