| | |
| --- | --- |
| 2020/2021 Update | [ DATE: 01/12/2020 12:18pm ] |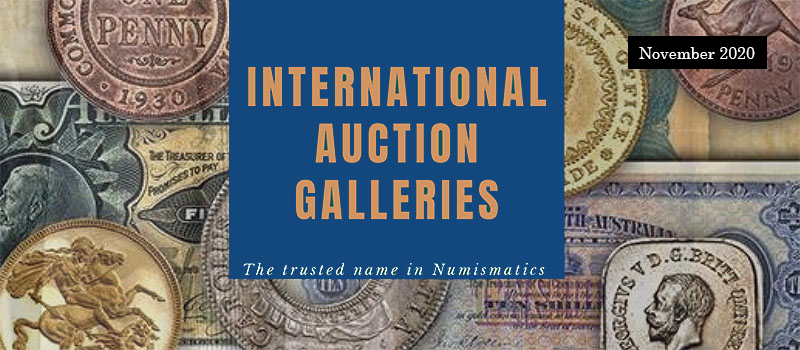 IAG's - 2020/2021 Update
Well... What a crazy year 2020 has turned out to be.
I'm sure we are all looking forward to 2021!
Next Auction - OS 16 - 13th/14th January 2021!
Our next Auction - OS 16 in January 2021 - is already taking shape and looking like another fantastic Sale! With the lots we have so far and consignments still flooding in daily, OS 16 will be our largest EVER Auction! A huge 1,400+ lots have already been consigned, with pre sale estimates totalling over $1,700,000 and a significant amount yet to be entered. OS 16 is also 98% NEW material! With 58 vendors so far, significant highlights consist of a formidable Banknote collection, which includes a 50 Pound in gEF/aUNC, a very rare George V Specimen 5 Pound and a George VI Specimen 10 Pound!
Along with these is a large selection of numismatic Gold (well over 80 oz just in gold weight so far), including a full Perth Mint Sovereign set, a $1,000 10 ounce gold Kangaroo and a hoard of 22 Singapore $150 1969. There are also hundreds of PCGS and raw Pre Decimal coins with some high grade and rare dates, Pre Decimal Proofs, mostly PCGS graded and a huge selection of Banknotes including Decimal, Specimens, Starnotes, First and Last Prefixes and a fantastic selection of Pre Federation. Other solid areas include Ancient, World and GB coins, Mis struck and error coins, Proclamation, World banknotes, high end Jewellery, tonnes of mint products, sets and albums and hundreds of unreserved and Estate lots starting from only $1 and so much more! The great thing about this auction is that there is just a tonne of buyable material!
OS 16 will also contain our entire small allocation of the popular ANDA Money Show limited edition Mint Product issues, which we will again offer completely Unreserved. Hopefully this will help those who missed out on these very limited releases obtain some of these highly sought after issues.
OS 16 will go Live in December, so make sure you are email subscribed to be notified as SOON as it goes LIVE!
In between madly sorting and lotting the huge amount of stock that has come in since our wildly successful Sale 92, we have also been busy continuing to upgrade our website, as many of you have no doubt noticed. Some recent changes include working on making things more mobile friendly, so that you can easier view, bid and buy from auction more conveniently with your phone or tablet, along with a host of backend upgrades!
S 93 in March 2021 will be another major Signature Sale, with some exciting key items and collections now lined up! Talk to us now if you are thinking of consigning for this important sale so as not to miss out.
We have been selected to offer a well known,
very large and significant Estate for Auction
across 2021! - Offerings Start with Sale 93.
A Few OS 16 HIGHLIGHTS!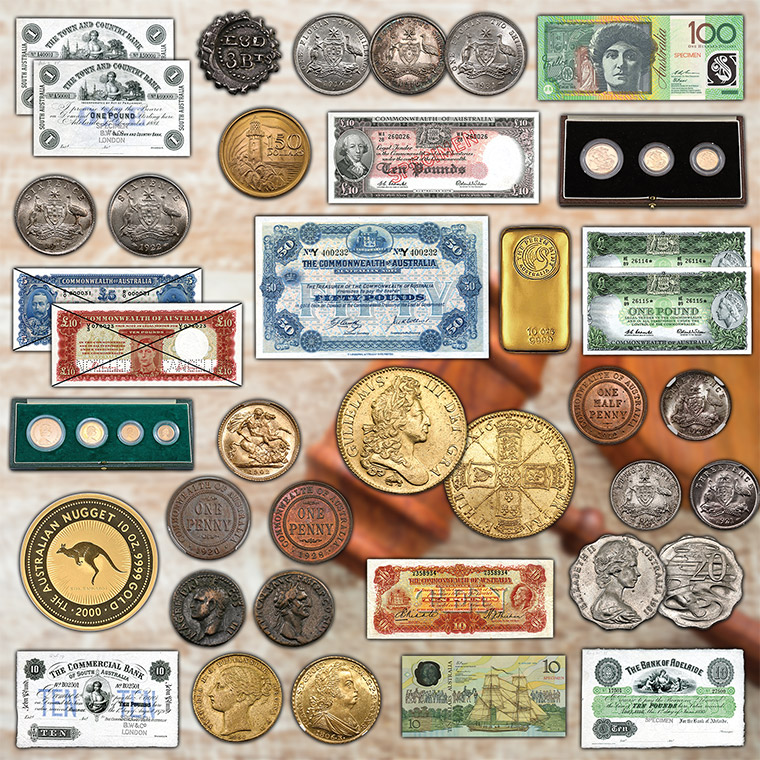 LEGENDARY ON SALE 15-20% OFF!
Our Legendary Numismatics division currently has over $750,000 of numismatic items available - many priced under retail - with everything NOW ON SALE at 15 -20% OFF for a short time!
View and Buy now at:
www.legendarynumismatics.com.au

NOW ACCEPTING CONSIGNMENTS
FOR SIGNATURE SALE 93 - March 2021

If you have any queries or would like to talk to our experts
about your collection please don't hesitate to contact us:

Please stay safe and Happy Collecting to all!
Paul, Moana and the team at IAG
www.iagauctions.com
| | |
| --- | --- |
| Vendors Wanted NOW! | [ DATE: 30/10/2020 10:31am ] |
WHY PAY COMMISSION TO SELL?


NO COMMISSIONS OR FEES FOR ALL VENDORS!

Want to be part of our recent Auction success? Signature Sale 91 and Sale 92 were both Record Breaking sales! Our Next major auctions for 2021 - Online Sale 16 and Signature Sale 93 - are sure to continue this success with some fantastic collections already catalogued! Take advantage of the strong demand being generated by our auctions and consign with us now to maximise your realisations through our expertise and experience. NO SELLERS COMMISSION means you will get more selling with us!

SELL WITH IAG

Wonder how much your coin or collection is worth and how to maximise returns? Submit consignments with us online! Our specialists will review your submission at no cost and advise you. Or send them directly to us and let us do all the work!

STOCK IN TRANSIT

If you can't see us in person, we can help advise on the best postage options or even organise secure transit for your goods to any value, so your rare or treasured items can be sent with complete peace-of-mind. Contact us to discuss arrangements to suit your needs and collection.

PROVEN RESULTS

IAG - Running auctions for 35 years and online from 2012, with over 265 auctions totalling in excess of $130,000,000! IAG's auctions have industry leading clearance rates and record sales, yet maintains an attitude of putting our clients first.

SECURE PAYMENTS

IAG are one of the few major auction houses to manage their clients funds via an audited trust account, thus ensuring your complete confidence and peace of mind. Our fast vendor payments are paid direct to your account in ONLY 30 days!

LATEST RESULTS
Our 2021 upcoming Auction Schedule:
ACCEPTING CONSIGNMENTS NOW FOR
SIGNATURE SALE 93, OS 16 AND BEYOND

If you have any queries or would like to talk to our experts
about your collection please don't hesitate to contact us:

Please stay safe and Happy Collecting to all!

Paul, Moana and the team at IAG

www.iagauctions.com