| | |
| --- | --- |
| OS 15 Bidding NOW OPEN! | [ DATE: 13/05/2020 12:36pm ] |

OS 15 Bidding NOW OPEN!
The OS 15 Catalogue is NOW ONLINE!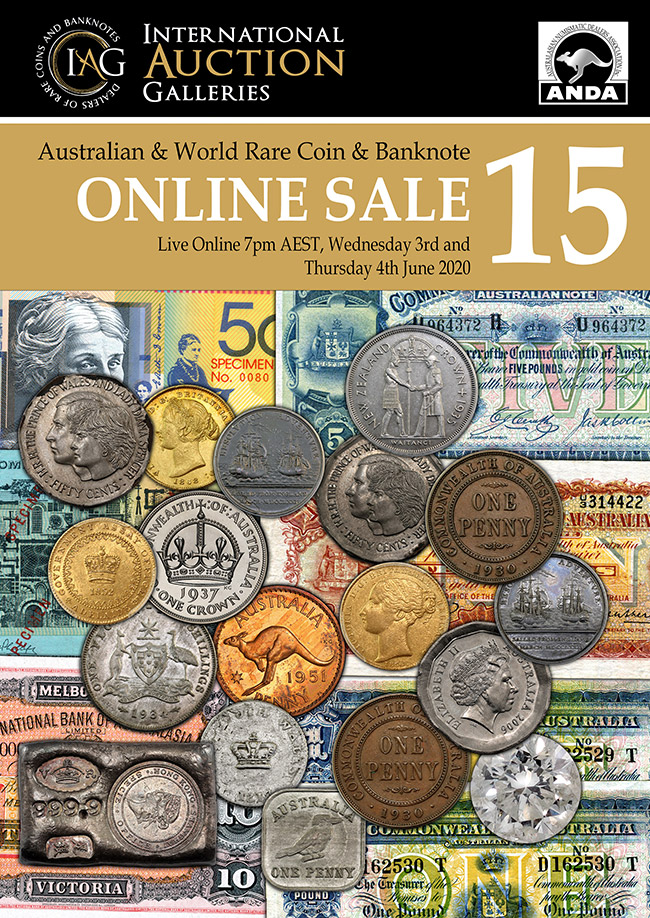 OS 15 - 2 Big Nights - Wed 3rd & Thurs 4th June 7pm AEST
IAGs Amazing ONLINE ONLY Sale 15 is one of our largest ever Online Auctions, totalling over $1,200,000 at estimate! To be held over 2 big nights, OS 15 comprises an excellent assortment of interesting and rare items with 1,212 lots from 50+ vendors. With everything from high quality rarities to a huge number of unreserved and Estate lots, this sale is packed with bargains priced way under retail including hundreds of lots under $50 and unreserved!
OS 15 Highlights Include: Proof 1934 and 1951 PL Sets of 4, a Proof 1937 Crown, a large collection of pre Federation including Specimens, Issued and Store Notes, Part 2 of a Large Banknote Collection - Pre Decimal, Decimal, Stars and Specimens, Gold including an MS 61 Adelaide Pound and an AU 55 1856 Sovereign, 2 Nice 1930 Pennies, Cook Resolution & Adventure Medals in Silver and Brass, along with a Kookaburra Penny Type 12.
There is also a good selection of Decimal Misprints, First/Last Prefixes, Special Serials, and a huge selection of Aust Pre Decimal, Decimal, Errors, GB & World Coins in Gold, Silver & Copper. Other highlights include Tokens, Medals, NPA, RAM & Perth Mint and World Proof & Mint issues, and a lovely selection of Estate and Modern jewellery.
- Don't Miss this Fantastic Bargain packed Online Only Auction! -
View ALL lots, Images and Current bids and Start prices for OS 15: HERE
Download The OS 15 PDF Catalogue: HERE
View The OS 15 Catalogue (Issuu magazine format): HERE
Happy Collecting to All!
Paul, Moana and the Team at IAG
You are receiving this email as you are part of IAGs subscriber base. If you have received this email in error please use the link to unsubscribe. Unsubscribe
| | |
| --- | --- |
| COVID-19 UPDATE | [ DATE: 30/03/2020 8:50pm ] |

Here at IAG it is "business as usual"- the business will NOT be heading into coronavirus isolation and we plan on running as normal as possible through this difficult period.
Having run Online Auctions for 8 years with our own auction software, we were easily able to transition our auction online, thus Sale 91 became our biggest Auction in several years. This also showed that the demand for quality Numismatics is, if anything, stronger now in troubled times than it has been. A record $1.25 million was realised from Sale 91, making this the largest online only Numismatic auction held.
We and our staff will be working from home and staggering office hours where possible to ensure the health of all. The office will run as usual so long as Australia Post operates; we will be sending and receiving stock, payments will be received and made, phones and mail will be answered. Sale 91 vendor payments will go out to all vendors by mid April.
Many clients have been asking "When is your next Sale?" As most people will have more free time, the excitement of one of our major online auctions is set to be a sure cure for the boredom of isolation! As such we plan to make the next sale (over 800 lots already catalogued) a fun, bargain packed 2-day sale with a LOT of unreserved and cheaper, bargain lots, along with some great highlights and quality items worth tucking away!
Thanks to our many loyal vendors who have responded with some great stock so far!
For those wanting to sell to free up some liquidity through the next months, we are still accepting consignments for OS 15, and plan to run as many further sales as we have stock. Take advantage and cash up now! - No Commissions or Fees to ALL Vendors - and FAST 30 day guaranteed payment from our Trust account to your bank account!
You can consign with us on our website NOW, or email us as below or call the office (during normal office hours) if you have any questions or queries or email us anytime!
There is some great stock on our Legendary Numismatics Website, with some new items and Unsolds from S 91 - all now 15-20% off!
If you have any queries please feel free to email or phone us:
E: mail@iagauctions.com P: (07) 5538 0300
Consign Lots for our Auctions Online with us NOW: HERE
Post Consignments to be including in our upcoming Auctions:
IAG - PO BOX 1380 Broadbeach Qld 4218
Please stay healthy, stay safe and Happy Collecting to all!
Paul, Moana and the Team at IAG
You are receiving this email as you are part of IAGs subscriber base. If you have received this email in error please use the link to unsubscribe. Unsubscribe