| | |
| --- | --- |
| S 92 Bidding NOW OPEN! | [ DATE: 04/09/2020 1:28pm ] |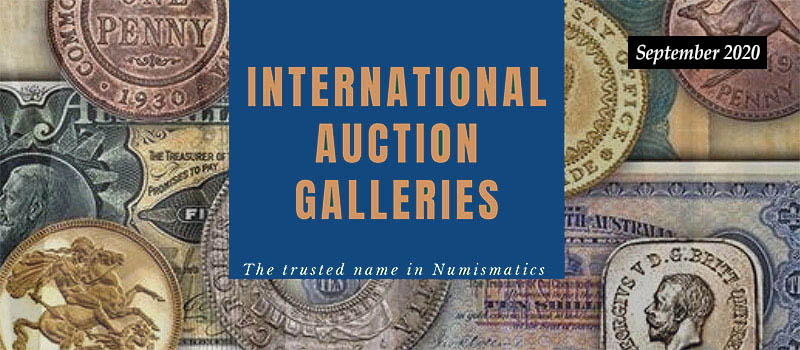 S 92 Bidding NOW OPEN!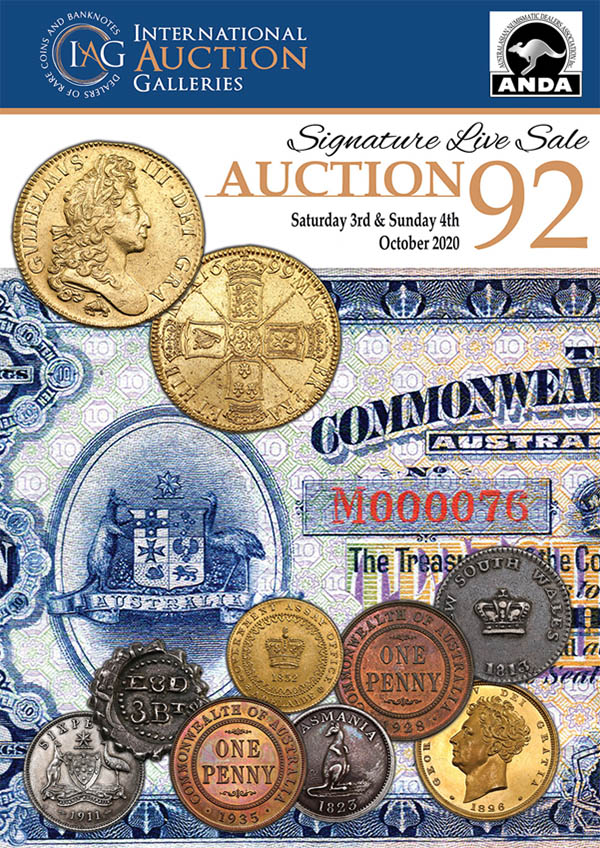 Catalogue - NOW ONLINE!
Bidding for IAG's Signature Live Auction - Sale 92 - IS NOW OPEN and the S 92 Catalogue is NOW Online to View and Download!
View ALL Lots, Images and Current bids for S 92: HERE
Download and View the S 92 Catalogue: HERE
Read the S 92 Catalogue (Issuu Ebook format): HERE
Bid on This Special Highlight Packed Auction Today!
For any queries please feel free to email or phone us:

Stay Safe and Happy Collecting to All!
Paul, Moana and the team at IAG
www.iagauctions.com
| | |
| --- | --- |
| July 2020 Update | [ DATE: 25/08/2020 10:29am ] |
WHY PAY COMMISSION TO SELL?

NO
COMMISSIONS OR FEES FOR ALL VENDORS!

Submissions for our biannual Live Online important and rarity filled auction with hardcopy printed catalogue will be closing soon- contact us NOW to take advantage of the current strong demand. Sale 91 was a record breaking sale - held completely Live Online! Our next major sale for 2020 is sure to be another milestone auction, with a fantastic selection of rarities and collections catalogued with some major collections still to come! Take advantage of the strong demand our auctions generate and consign with us to maximise your realisations through our expertise and experience. NO SELLERS COMMISSION means you will get more selling with us!

SELL WITH IAG

Wonder how much your coin or collection is worth and how to maximise returns? Submit consignments with us online! Our specialists will review your submission at no cost and advise you. Or send them directly to us and let us do all the work!

STOCK IN TRANSIT

If you can't see us in person, we can help advise on the best postage options or even organise secure transit for your goods to any value, so your rare or treasured items can be sent with complete peace-of-mind. Contact us to discuss arrangements to suit your needs and collection.

PROVEN RESULTS

IAG - Running auctions for 35 years and online from 2012, with over 265 auctions totalling in excess of $130,000,000! IAG's auctions have industry leading clearance rates and record sales, yet maintains an attitude of putting our clients first.

SECURE PAYMENTS

IAG are one of the few major auction houses to manage their clients funds via an audited trust account, thus ensuring your complete confidence and peace of mind. Our fast vendor payments are paid direct to your account in ONLY 30 days!

"At IAG, we put our customers needs first. Which is why we have so much repeat and word-of-mouth business"

Get up to
20% MORE
Selling with IAG. No sellers
commission or fees means
you could save thousands

ACCEPTING CONSIGNMENTS NOW FOR
SIGNATURE SALE 92, OS 16 AND BEYOND

click here to submit lots

If you have any queries or would like to talk to our experts
about your collection please don't hesitate to contact us:

Please stay safe and Happy Collecting to all!

Paul, Moana and the team at IAG

www.iagauctions.com
| | |
| --- | --- |
| COVID-19 UPDATE | [ DATE: 30/03/2020 8:50pm ] |

Here at IAG it is "business as usual"- the business will NOT be heading into coronavirus isolation and we plan on running as normal as possible through this difficult period.
Having run Online Auctions for 8 years with our own auction software, we were easily able to transition our auction online, thus Sale 91 became our biggest Auction in several years. This also showed that the demand for quality Numismatics is, if anything, stronger now in troubled times than it has been. A record $1.25 million was realised from Sale 91, making this the largest online only Numismatic auction held.
We and our staff will be working from home and staggering office hours where possible to ensure the health of all. The office will run as usual so long as Australia Post operates; we will be sending and receiving stock, payments will be received and made, phones and mail will be answered. Sale 91 vendor payments will go out to all vendors by mid April.
Many clients have been asking "When is your next Sale?" As most people will have more free time, the excitement of one of our major online auctions is set to be a sure cure for the boredom of isolation! As such we plan to make the next sale (over 800 lots already catalogued) a fun, bargain packed 2-day sale with a LOT of unreserved and cheaper, bargain lots, along with some great highlights and quality items worth tucking away!
Thanks to our many loyal vendors who have responded with some great stock so far!
For those wanting to sell to free up some liquidity through the next months, we are still accepting consignments for OS 15, and plan to run as many further sales as we have stock. Take advantage and cash up now! - No Commissions or Fees to ALL Vendors - and FAST 30 day guaranteed payment from our Trust account to your bank account!
You can consign with us on our website NOW, or email us as below or call the office (during normal office hours) if you have any questions or queries or email us anytime!
There is some great stock on our Legendary Numismatics Website, with some new items and Unsolds from S 91 - all now 15-20% off!
If you have any queries please feel free to email or phone us:
E: mail@iagauctions.com P: (07) 5538 0300
Consign Lots for our Auctions Online with us NOW: HERE
Post Consignments to be including in our upcoming Auctions:
IAG - PO BOX 1380 Broadbeach Qld 4218
Please stay healthy, stay safe and Happy Collecting to all!
Paul, Moana and the Team at IAG
You are receiving this email as you are part of IAGs subscriber base. If you have received this email in error please use the link to unsubscribe. Unsubscribe